 The passionate pursuit of sustainable water, sanitation, and hygiene services for all
WE'RE ON A MISSION
With fewer than ten years left to achieve United Nations Sustainable Development Goal (SDG) 6: Clean Water and Sanitation for All by 2030, IRC and Water For People are joining forces to drive exponential progress in the delivery of WASH and reach 200 million people with strengthened systems in the next decade. Through our newly formed alliance, we have established "Destination 2030," our collective effort to hasten progress toward SDG 6.
Our Destination 2030 vision is clear: the passionate pursuit of water, sanitation, and hygiene service for all. But we will go beyond vision to include a joint strategy and monitoring framework developed together and shared by Water For People and IRC. Quite simply, we can do more together – and do it faster – than we can alone.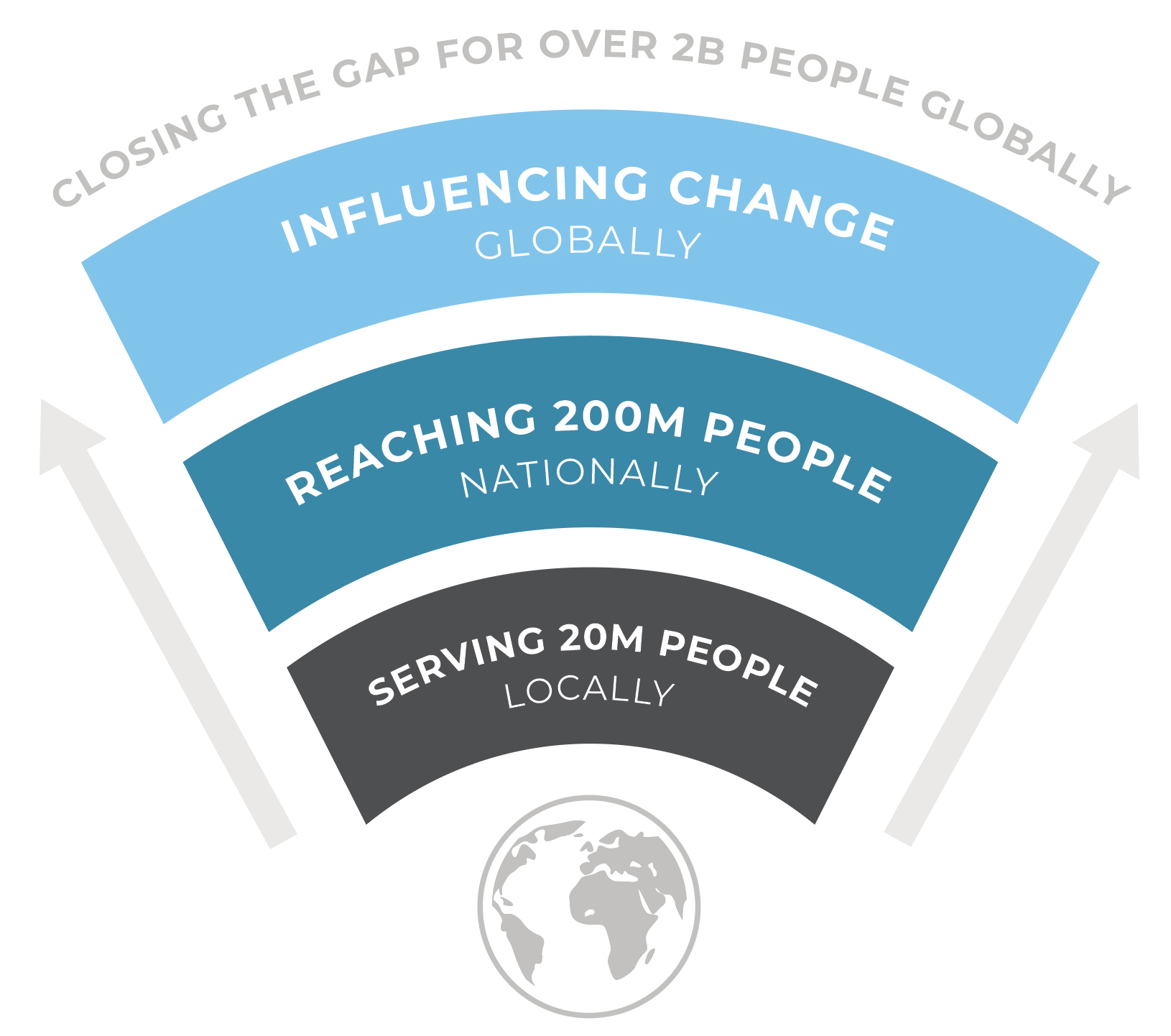 WE'RE ALL ABOUT SDG 6
Ensuring availability and sustainable management of water and sanitation for all.
OUR WORK ALSO ACCELERATES THE SDG AGENDA IN MANY OTHER AREAS

SDG 3, SDG 4 Expand WASH in schools and healthcare facilities
SDG 5 Generate opportunities for women and girls
SDG 8 Create business opportunities in WASH
SDG 9 Develop quality, reliable, sustainable, and resilient infrastructure
SDG 11 Create sustainable cities and communities
SDG 13 Accelerate response to the climate emergency
SDG 17 Partner with other organizations to increase pace of change
A VISION FOR PROGRESS.
A STRATEGY FOR IMPACT.
Destination 2030 is our shared vision and strategy for how we will work toward the delivery of safe water and sanitation services to everyone at community and country levels, and in the global development arena. Our strategy was developed by diverse global teams, local to the countries where we work, and they will implement it, drawing on our expertise and legitimacy to act as drivers and agents of change in local systems.
By 2030 we will radically increase our impact while tripling our annual investment in water and sanitation systems. We have identified three interconnected impact pathways, which form the basis of this joint strategy: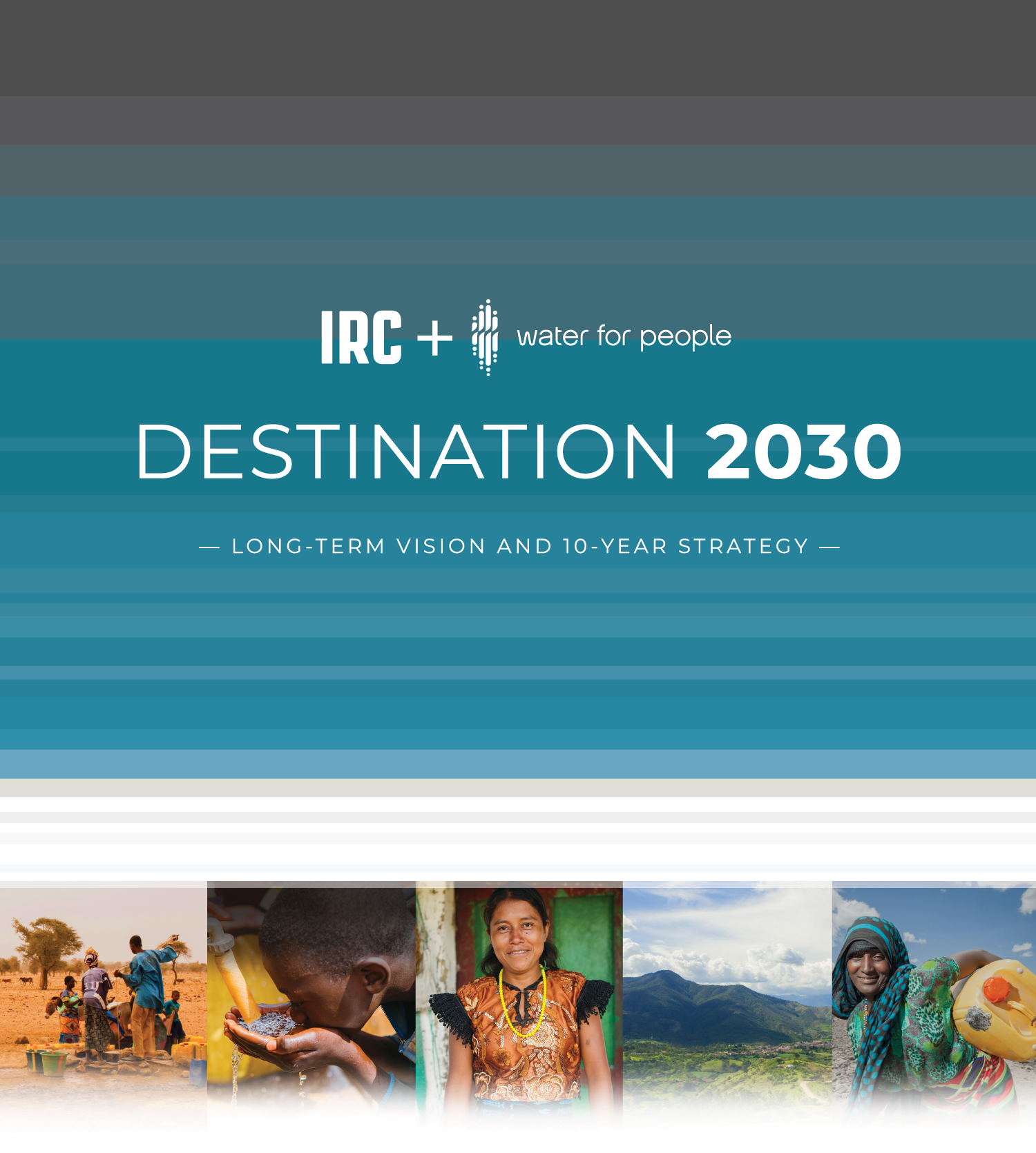 LOCAL IMPACT
We will seek to achieve universal services by strengthening local water, sanitation, and hygiene systems and investing in over 150 partner areas to improve services for 20 million people by 2030.
NATIONAL IMPACT
We will scale efforts at the national level to strengthen water and sanitation systems and improve services for more than 200 million people in at least 20 countries by 2030.
GLOBAL IMPACT
We will challenge the status quo, influence leaders, and support change in the behaviors, relationships, and power dynamics that perpetuate inequity. We will influence and help bring transformational change in how services are provided for over 2 billion people who still lack safe water and sanitation across the globe.
Addressing climate change for LASTING CHANGE
Water For People and IRC are excited to share with you our newly-published joint Working Paper on Climate Change, Water Resources, and WASH Systems, including a global overview and cases from 12 low- and middle-income countries where we work in Asia, Africa, and Latin America. 
As we have watched the climate change and change again over the past several years, IRC and Water For People realize there will be no resolve to this challenge if we don't change ourselves. One of our ambitious Destination 2030 goals is to reframe the climate discourse from a WASH systems perspective. There is simply not enough attention paid to the WASH/climate connection. But, rest assured, we are paying attention.
Fundamentally, the world is changing; WASH must change, too. The COVID-19 pandemic has shined the spotlight on the fact that far too many people around the world still lack reliable water access. Our goal is to finally solve this challenge by connecting big, disruptive ideas with real, operational delivery. We envision Destination 2030 to be rooted in:    
Synergistic Strengths 

– Water For People is a globally recognized leader in helping deliver universal and sustainable services, and a facilitator of sanitation market systems development at the 

local and national levels

. IRC is a globally recognized WASH systems champion at the international level and strengthener at the 

national level

. We both aspire to do more at the 

global level

. In fact, these three aspirations form the impact pathways of our Destination 2030 vision. In addition, our combined footprint in 15 focus countries means we can have greater impact working 

together

 in these countries – and eventually expand to more countries.

Collective Action

– We have a better chance of achieving our Destination 2030 vision if we work with partners versus working alone. In fact, we will eventually welcome other partners to join us. Ideal alliance partners will be those who excel in helping develop sustainable WASH services in countries where we do not already work, and who also desire to be part of a global alliance.

Changing Ourselves 

– We are in the process of adapting our business models towards more decentralized management and governance structures aligned with the key principle of subsidiarity – 

what can be done locally should be

. We believe our leadership, decision-making processes, and organizational structures need to better reflect and represent the people and places where we work, while delivering our work with local, national, and global legitimacy.

 
There are just 9 years left to achieve SDG 6: Clean Water and Sanitation for All, but the latest Joint Monitoring Programme (JMP) figures indicate the world is disappointingly off-target. Destination 2030, or D30, is Water For People and IRC's joint vision to accelerate progress in reaching this milestone. We believe that billions of lives can and must be transformed with sustainable access to water and sanitation. SDG 6 demands that every country has systems that raise the standard of service delivery, while also relentlessly seeking solutions for the unserved 
Destination 2030 identifies three impact pathways to achieve SDG 6 (collectively known as "D30 Goals"): 
Local – increasing local water, sanitation, and hygiene systems to improve services for more than 20 million people in districts;

 

National – strengthening national water, sanitation, and hygiene systems to improve services for more than 200 million people; and

 

Global – challenging the status quo, to influence leaders and support people and organizations to find ways to deeply influence and contribute to transformational change in how WASH services are provided to two billion people globally. 
In order to increase our overall impact on the global WASH sector and to accelerate progress towards achieving SDG 6, we have established the following Alliance Objectives: 
Establish a joint monitoring framework, using consistent metrics and reporting on WASH impact; 

 
Increase our ability to influence transformational change in the WASH sector and political will at the local, national, regional (continental), and global levels; 

 
Increase our collective impact in the combined 15 countries where we work through collaboration and synergistic integration;

 
Identify potential countries and partners for future expansion;

 
Share resources and knowledge, particularly technical and management expertise; and

 
Pursue joint opportunities, projects, and initiatives in the WASH sector.

 
Both IRC and Water For People remain steadfastly committed to advancing a systems change approach to solving the global water and sanitation crisis. Water For People and IRC will continue to be actively involved in Agenda for Change, Millennium Water Alliance, Sanitation and Water for All, and other alliances and collaborations, and will continue to participate in other opportunities to further our mission. To maximize resources and avoid duplication of efforts, we may pick one organization to be the main representative from the alliance for each of these collaborations. We know that deep, transformational systems change requires collaboration throughout the WASH sector; no one can do it alone.  
We intend to invite other alliance partners in due course. In the meantime, we will be actively exploring the value of Destination 2030 with the WASH sector (and other related sectors such as health, environment, education, etc.).
Achieving the bold and ambitious goals outlined in Destination 2030 will require a groundswell of support from the WASH sector and far beyond. We are seeking investment from individuals, corporations, bilateral and multilateral funders, foundations, and like-minded organizations from other sectors including health, education, environment, gender-based organizations, and many others. To learn more about investing in Destination 2030, please contact Katherine Williford at Water For People ([email protected]) or Liz Early at IRC ([email protected]).
Please sign up to receive email updates.
IRC and Water For People currently operate in the following countries: Bangladesh, Bolivia, Burkina Faso, Ethiopia, Ghana, Guatemala, Honduras, India, Malawi, Mali, Nicaragua, Niger, Peru, Rwanda, Uganda 
IRC
IRC is a catalyst of change, working in every corner of water, sanitation, and hygiene to build and strengthen systems that transform lives. With its partners, the organisation uses its expertise to deliver water and sanitation systems in eight countries and 31 districts and municipalities. IRC works with local and national governments, businesses, and civil society, and with international partners around the world to promote systems thinking and delivery. Its international team is made up of over 90 recognised water, sanitation, and hygiene service specialists and dedicated field staff with additional offices in the Netherlands and the United States. For more information visit www.ircwash.org. 

WATER FOR PEOPLE
Founded in 1991 in Denver, Colorado, Water For People is a global nonprofit working across nine countries in Latin America, Asia, and Africa to achieve lasting access to clean water and sanitation services. Water For People brings together communities, local entrepreneurs, and governments to build, operate, and maintain their own systems so that every family, health clinic, and school has access to safe water and sanitation that will last for generations to come. This impact model is called Everyone Forever. Learn more at www.waterforpeople.org.