Ten girls are keeping hundreds of girls in school in India.

Their bright blue vests signal their positions on the school Water and Sanitation Committee, but these girls are part of another important group – the Menstrual Hygiene Committee. Their aim is for the whole school to understand menstruation and menstrual hygiene management.
In India, 71% of girls report having no knowledge of what menstruation is until their first period. Once their periods come, 70% of females say they can't afford pads, so many use reusable cloth instead – which is not often washed with soap or safe water. Many girls also lack privacy to change their pads during the school day. These factors, among many others, result in 23% of girls ages 12 to 18 dropping out of school.
The Menstrual Hygiene Committee in the Badamathura Haripriya High School in Patharpratima, West Bengal, is committed to ending this trend.
While their mandate on the Water and Sanitation Committee is to instill the importance of safe drinking water, toilets, and hygiene for the school's 976 students, these girls are bringing an eye to what female students need: private washrooms, sanitary pads, and an incinerator to dispose of pads.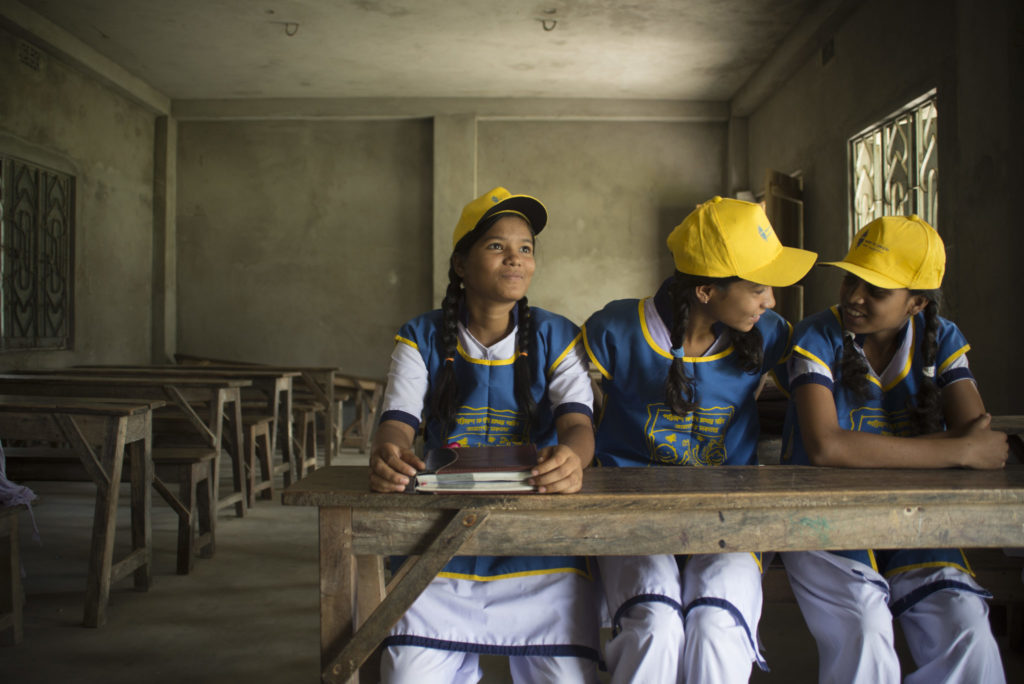 The Menstrual Hygiene Committee holds an assembly at the start of each school year, sharing with their fellow female students about what to do when their periods arrive. And they make themselves available to any girls at the school who may need to talk about the changes happening to their body.
The committee's support gives girls what they need to manage their periods, allowing them to come to school every day. When asked what more they might need, girls at the school say, "Nothing! We have it all."
The changes these ten girls have ushered in is obvious, and their influence is widespread. They're respected by their classmates for bringing attention to a subject that makes girls, boys, and even grown-ups blush. As classmates walk by, all eyes are on the girls in the bright blue vests. And the girls' heads are held high – they know they're impacting the future.