Many companies match donations their employees make to nonprofits. See if your company will match your donation to Water For People by using our Double the Donation search tool.
We also have partnerships with companies who organize workplace giving campaigns to Water For People. If you work at one of these companies, reach out to us or your human resources department about how to donate.
If you are a federal employee, you can support Water For People through the Combined Federal Campaign.
Our CFC number is 10916.
Employees Want to Give
Employees want to work for a company that cares about causes like safe water and gives back.
Studies have shown that a company's involvement with causes is one of the most important factors employees consider when applying for a job.1 It can increase employee engagement and productivity, and it can reduce turnover.2 A well-designed corporate responsibility program can even increase revenue.3
How to Set Up an Employee Giving Campaign
We'll work with you to help make your workplace giving campaign a success. Once you set a time for your campaign, we have resources to help you engage your company's employees and meet your fundraising goals.
You'll have access to sample presentations, social media posts, speeches, and event ideas. We'll provide stories and videos for you to share that show the impact of people's donations.
We want to empower you to help your company and your colleagues have the greatest impact possible.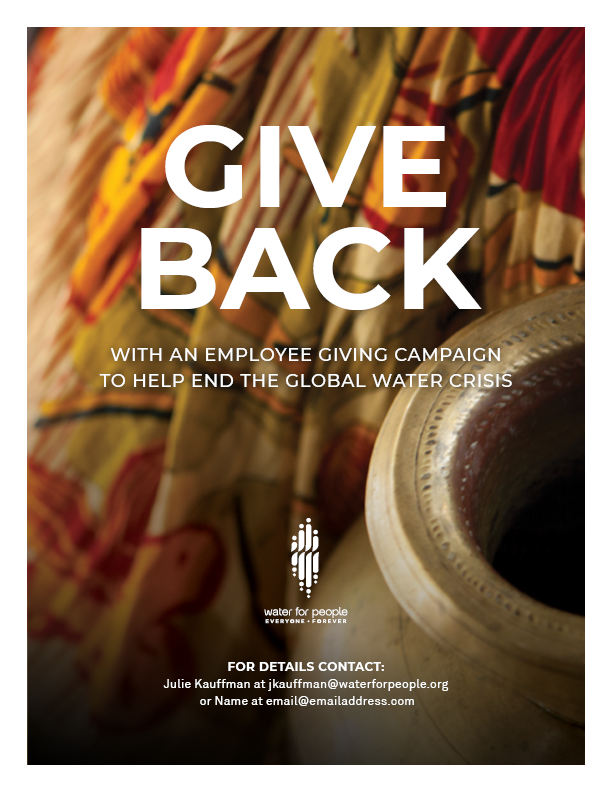 Hear what These Supporters Have to Say
Hear from passionate employees whose companies have workplace giving programs and initiatives.