Our Team
As our name suggests, it all comes down to people. Our mission is about people and our work is for people. And the most important resource we have to succeed at our mission is the incredible people who work for us and with us.
We want to thank all the volunteers, staff, board, field partners, funding partners, donors, and strategic partners for their dedication, tenacity, and selflessness in helping us work to solve the world's water crisis – for Everyone Forever.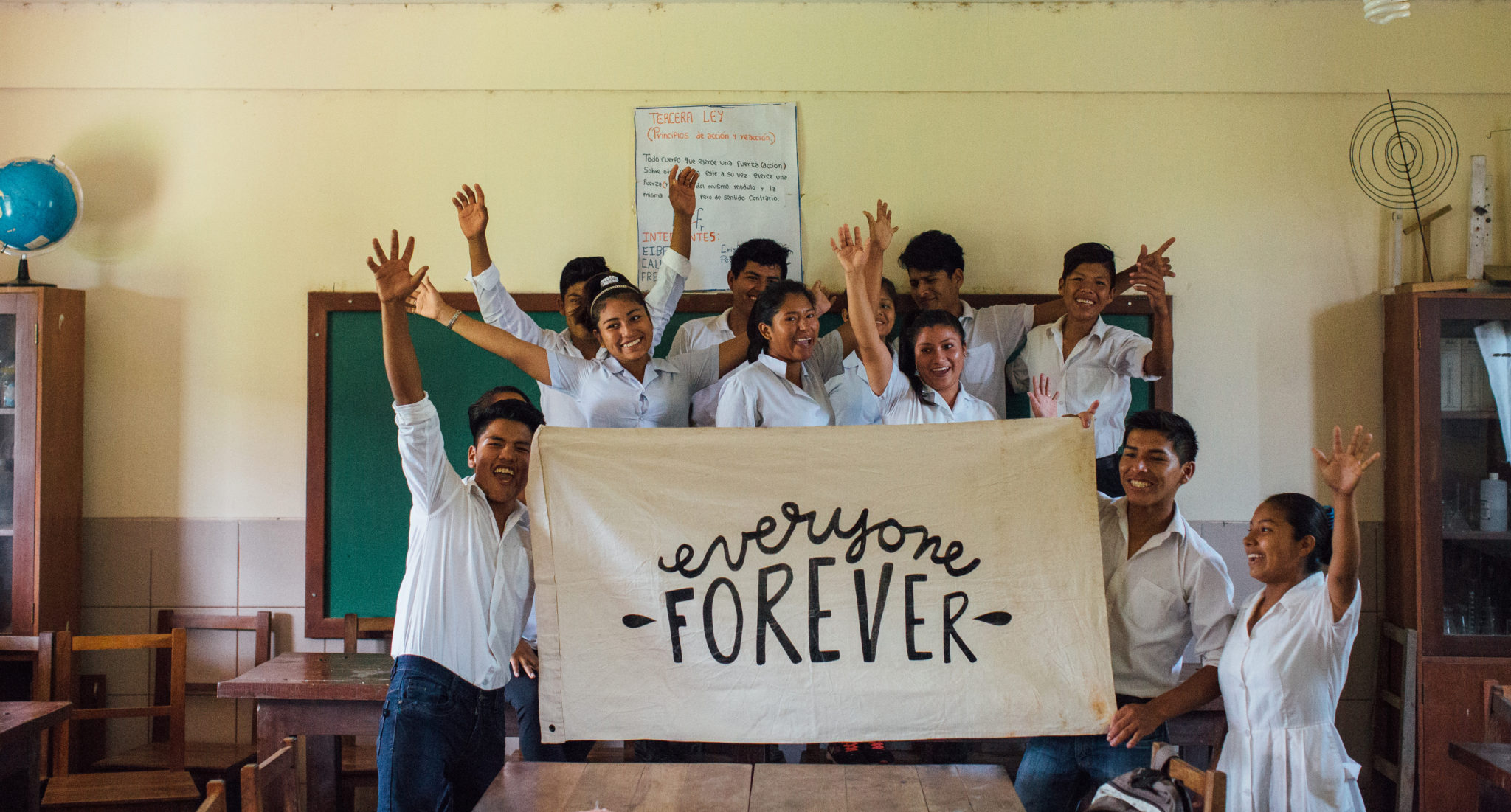 MARK DUEY
CHIEF PROGRAMS OFFICER
Mark believes the global water and sanitation crisis can end during our lifetime. Mark was a Peace Corps volunteer in Honduras and then a consulting engineer before joining Water For People in 2008. He holds an MS in Economics, Finance, and Management from the Barcelona Graduate School of Economics where he was a Rotary Ambassadorial Scholar. Mark enjoys strong family ties to Central America where his wife and two of his three children were born.
KATHERINE WILLIFORD
CHIEF GROWTH OFFICER
Katherine believes that through Water For People's Everyone Forever strategy, poverty is solvable – and is passionate about connecting supporters with our work to achieve that vision in our lifetime. Katherine found her calling on a community service trip to Honduras, which inspired her to move to Honduras full-time as a volunteer – where she saw firsthand the impact water poverty has on families. She brings more than a decade of business development and board experience in the nonprofit sector, and has lived, worked, and traveled to more than 25 countries. Katherine holds a B.A. in Spanish Language & Literature from Rhodes College, and enjoys hiking, camping, skiing, and show-shoeing across Colorado with her husband and dog in their free time.
Regional Director, Africa
SAMSON HAILU BEKELE
REGIONAL DIRECTOR, AFRICA
Samson Hailu Bekele joined Water For People as the Africa Regional Director in 2017. He contributes his 35 years of experience in strategic planning, managing finances and programs, strengthening fundraising and grant management processes, and mentoring people. He has visited or worked in 25 countries – 18 in Africa – and savors time with his two, now nearly adult, children. He holds an MBA, a postgraduate diploma in business analysis, and a BS in Accounting.
Regional Director, Latin America
DANIEL OPORTO
REGIONAL DIRECTOR, LATIN AMERICA
Daniel is an international development expert with 20 years of experience designing, implementing, monitoring, and evaluating projects in areas related to pro-poor and private sector development. Daniel's experience has focused on the following fields: market-based mechanisms in water and sanitation, sustainable and climate-smart agriculture, public-private partnerships, linking smallholders and farmers to markets, value chain and market systems development, and bottom of the pyramid markets, to name a few.
Daniel has worked on multicultural project teams with clients and employers from the private sector, multilateral and bilateral institutions, humanitarian aid agencies, nonprofits, microfinance institutions (MFIs), social entrepreneurs, and business associations in Africa, Asia, Europe, and Latin America. He currently lives in La Paz, Bolivia where he enjoys reading and researching issues related to poverty and likes long walks with his family. Daniel speaks Spanish and English fluently.
ULEMU CHILUZI
COUNTRY DIRECTOR, MALAWI
Ulemu Chiluzi joined Water For People in 2020 as the Malawi Country Director. A civil engineer, he contributes his 18 years of experience leading development programs spanning the education, food security, livelihoods, WASH, governance, and HIV/AIDS sectors. He excels at organizational development and strategy, networking, relationship building, and resource mobilization. He has worked with CARE International, United Purpose (formerly Concern-Universal), Plan International Malawi, ActionAid Malawi, and Self-Help Africa. He has an MBA and a BS in Civil Engineering. In his free time, he enjoys playing chess.
BISHWADEEP GHOSE
COUNTRY DIRECTOR, INDIA
Bishwadeep Ghose joined Water For People India in fall 2020 as the Water For People India Country Director, contributing 25 years' experience sharing knowledge on, managing national and international programs, and advocating for programs related to water security, agriculture, and forestry. He has contributed to water policies and the design of large-scale programs of India's Central and State Governments while with Arghyam and the India Water Portal. He also served as an Interim Director of Hivos' Regional Office and is the Founding Director of the India Foundation for Humanistic Development. He has a Post Graduate Diploma in Forest Management and a bachelor's degree in chemistry and enjoys spending free time with family and being outdoors. 
PERPETUE KAMUYUMBU
COUNTRY DIRECTOR, RWANDA
Clean water saves lives. For Perpetue Kamuyumbu there is nothing more exciting than working for an organization that gives you an opportunity to contribute to this noble goal. She joined Water For People in 2008 and became the Rwanda Country Director in 2010. She has more than 20 years of experience in WASH planning and investment and opportunities and challenges in Rwanda. Previously, she worked with Rwanda's Ministry of Infrastructure, among other organizations. She has a master's degree in project planning and management and a professional diploma in monitoring and evaluation.
Country Director, Honduras
TUPAC MEJIA
COUNTRY DIRECTOR, HONDURAS
Tupac Mejia is a trailblazing leader with more than 24 years of experience spearheading WASH initiatives and programming in rural, peri-urban, and urban regions of his native Honduras. He has supported relief efforts in response to natural disasters. Tupac joined the Water For People team as the Honduras Country Director in 2015 and has been instrumental in scaling WASH activities. He holds a bachelor's degree in civil engineering, a master's in hydraulic engineering, and an MBA. Tupac is fluent in Spanish and Russian.
Gisela Murrugarra
COUNTRY DIRECTOR, PERÚ
Joining Water For People in 2021 as Country Director in Perú, Gisela Murrugarra has more than 20 years' experience managing, implementing, and evaluating programs. She has worked in both the private and public sectors, including the Ministry of Education and the Ministry of Housing, Construction, and Sanitation. Gisela led multidisciplinary teams and facilitated public-private partnerships funded by World Bank that include the design and management of rural WASH programs and support for sanitation companies in Peru.  She brings to Water For People a strong background in continuous program improvement, in-depth analysis of processes, and financial risk management.
Gisela received her degree in Project Management from Pontificia Universidad Católica del Perú and a degree in Industrial Engineering from the Universidad de Lima. In addition, she holds a Global Master of Business Administration (MBA) from Thunderbird School of International Management (USA) and TEC de Monterrey (Mexico). In Gisela's spare time, she enjoys reading, running, and spending time with her family.
Gisela joined Water for People because she, like Water for People, believes that the biggest challenge in achieving the SDG6 is sustainability, which goes beyond coverage, as well as innovation to look for new solutions for population without access to quality services.
Country Director, Nicaragua
LIZA RIVERA
COUNTRY DIRECTOR, NICARAGUA
Bringing 10 years of experience working with regional and international non-profits, Liza Rivera joined the Water For People family in February 2021. She believes that combatting the world water crisis and climate change are the most pressing issues facing humanity.
Before coming to Water For People, Liza worked as a Resource Development and Fundraising Manager with Habitat for Humanity, promoting access to affordable and quality housing. She also served as an Operations Manager with the Central American Institute of Business Administration (INCAE) in Nicaragua. Originally from Jinotega, Liza graduated from the Universidad Católica de Nicaragua (UNICA) with a degree in Systems Engineering and holds an MBA from INCAE. In her spare time, she enjoys singing, reading, and spending time with family and friends.
Country Director, Bolivia
ALBERTO YUTRONIC
COUNTRY DIRECTOR, BOLIVIA
Alberto Yutronic has a personal commitment to contribute to the development of the rural population of Bolivia through his work that includes the management of water resources, considering it both a social asset and a natural resource with economic value.
Alberto has more than 30 years of experience as a civil engineer. He holds his Master of Science in Techniques in Water and Environment. His entire professional career has been dedicated to the implementation of hydraulic programs and projects, river basin management, water for human consumption and its relationship with health. Years of professional practice have allowed him to visit much of rural ​​Bolivia and serve as an evaluation expert for development programs and projects in South America. In 2014, Alberto joined Water For People as the Bolivia Country Director, a job that has enabled him to contribute to the development of the Everyone Forever approach in rural municipalities, Quechua communities, and with rural dispersed households that rely on small agriculture. Alberto's hobbies include reading and hiking with his family.
Water For People has a dedicated staff throughout the world.
Coming soon! Our Bolivia site is almost ready, then you can meet our dedicated team based in Cochabamba.
Coming soon! Our India site is almost ready, then you can meet our dedicated teams based in Delhi, Kolkata, Sheohar, and Amravati. 
Coming soon! Our Malawi site is almost ready, then you can meet our dedicated team based in Blantyre.
Coming soon! Our Uganda site is almost ready, then you can meet our dedicated team based in Kampala.
THIS

IS WHERE YOU COME IN
Your support can help us make the world's water crisis a problem of the past, for Everyone Forever.