LET'S CREATE CHANGE TOGETHER
AS A COMPANY, WHAT YOU DO MEANS SO MUCH MORE THAN WHAT YOU SAY.
Corporate Partnerships are a great way to demonstrate what your brand believes. Water For People is the ideal partner for a variety of products and brands because water touches so many parts of life – it changes everything.
Join us if you want to make lasting impact on any or all of these causes:
EDUCATION – When water is available, kids stay in school and have more time to study, because they don't have to help their families walk long distances to fetch water. Our model ensures every school in a community has clean water.
WOMEN & GIRLS – Walking long distances to fetch water falls disproportionately to women and girls, keeping them from school or jobs.
HEALTH – Clean water and proper sanitation improve the health of communities because handwashing and better hygiene practices prevent disease. Our model ensures every health clinic in a community has clean water.
78%
of Americans believe companies should positively impact society, not just make money.
– 2018 Cone/Porter Novelli Purpose Study –
Turnover dropped by
57%
among employees that are connected to their companies' giving and volunteering efforts.
– 2018 Benevity Engagement Study –
Brands with a purpose outperform the stock market by
120%
– Interbrand's Best Global Brands 2017 –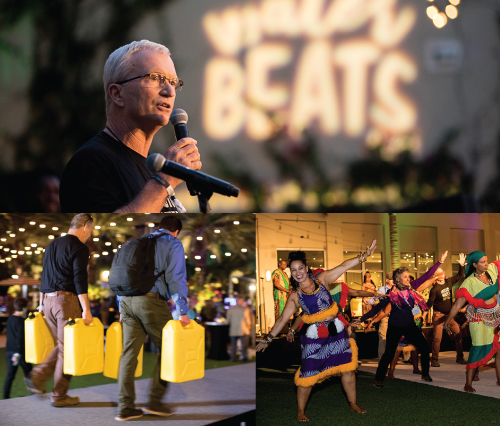 Avista Technologies – "Water Beats" Event
ECONOMIC PROSPERITY – Our Everyone Forever model creates jobs for water sellers, pump mechanics, masons, and many others. Time saved from not walking long distances to collect water also increases families' ability to work and earn money. Clean water improves health, leading to fewer medical bills.
SUSTAINABILITY – The Everyone Forever model is based on ensuring water and sanitation services are sustainable for generations to come. This means water supplies are protected, managing institutions are functional and well-funded, and communities are aid-independent. Our work aligns with the United Nations' Sustainable Development Goal 6 – availability and sustainable management of water and sanitation for all.
JOIN THESE COMPANIES WHO ARE ALREADY WORKING WITH US TO CHANGE EVERYTHING
TAKE A STAND WITH YOUR BRAND
Let's work together to make a positive impact on the world. Here are a handful of ways your brand can partner with Water For People.
If you're interested in getting your brand involved, please tell us a little more: