Simon's exuberant smile gives away his passion for his task at hand: improve the health of his village through better hygiene and sanitation.
Simon was born in this village in the rural hillsides of Rwanda and has lived here all 46 years of his life. Growing up, he says they lacked clean things in the village. The absence of water and sanitation facilities meant they walked hours each day for water and would go to the bathroom anywhere in the hills.
Last year, Simon's community finally got access to safe water. And it was something to celebrate.

"Now we have seen a change!" Simon shares with a proud smile. "It used to be hard for us, but now with water taps nearby, it is easy for us to fetch water. It has reduced diseases and sickness and saved us time!"
Life is better for Simon's community, but he says there is still a long way to go to make sure the village is as healthy and clean as possible. Water brought change, but he knows better sanitation and hygiene are the way to the healthiest future.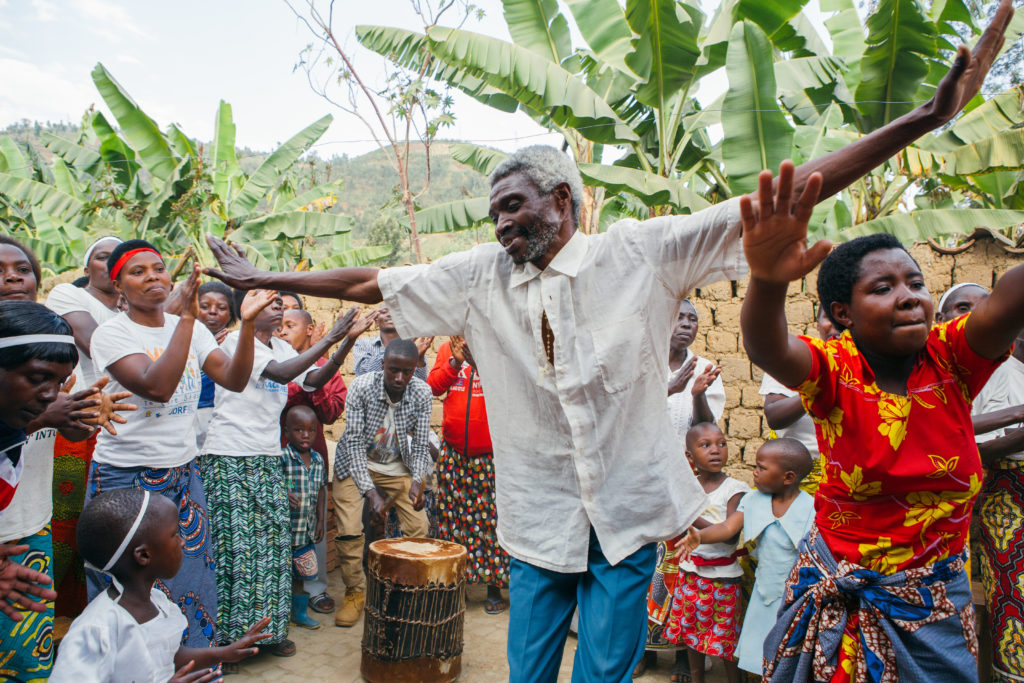 Simon leads the village hygiene club, which has 60 members. You can hear their meetings before you see them – they're marked by exuberant singing and dancing. Simon and his club create songs that celebrate the impact of water, sanitation, and hygiene. The songs also instruct villagers on how to have safe, healthy, hygiene and sanitation practices.
The songs are full of energy – clapping, stomping, and drumming. Men and women of all ages, even the small children, are passionately singing about how to have a healthier future through practices like handwashing, using latrines, and keeping homes clean.
"These songs help us to open up people's minds to these topics," shares Simon. "We compose a song based on the activity we will be educating about."
The club meets twice a week, and members spend that time either building latrines or going from home to home teaching families about sanitation and hygiene – often utilizing song and dance. Their goal is for all 172 families in the village to have a hygienic latrine.

"When you have a good latrine, you have a good life," Simon explains. "Good latrines and proper usage promote dignity and health, and stop the spread of disease."
The club's influence extends even beyond water and sanitation. It is promoting good nutrition as well. Many families are creating small vegetable gardens, since they can now water these gardens with the new community water point.
"The community is really improving," says Simon.
Simon wants to build a better future for his own children and his own village, but he's not going to stop there. His goal is to help create similar hygiene clubs in neighboring villages, until everyone within his reach has the promise of a healthy and safe future.