Beatrice and her neighbors have an acute understanding of the value of time.
Three years ago, women and children in her community of Ngoma in Rulindo District, Rwanda, were losing hours every day fetching water from an unprotected spring. Kids lost time they could be in school – arriving late, leaving early, and sometimes missing entire schooldays to fetch water. Women lost time they could be spending with family or devoting to work that could improve their families' livelihoods.
Hours lost each day culminated into weeks lost each year. All because the over 10,000 people of Ngoma had to walk for water.
In 2014, all of that changed. Water For People partnered with the community, a local NGO, and the district government to construct a water system in Ngoma that would bring water closer to the community. A tap stand was placed in the middle of their village, providing water whenever Beatrice and her neighbors needed it.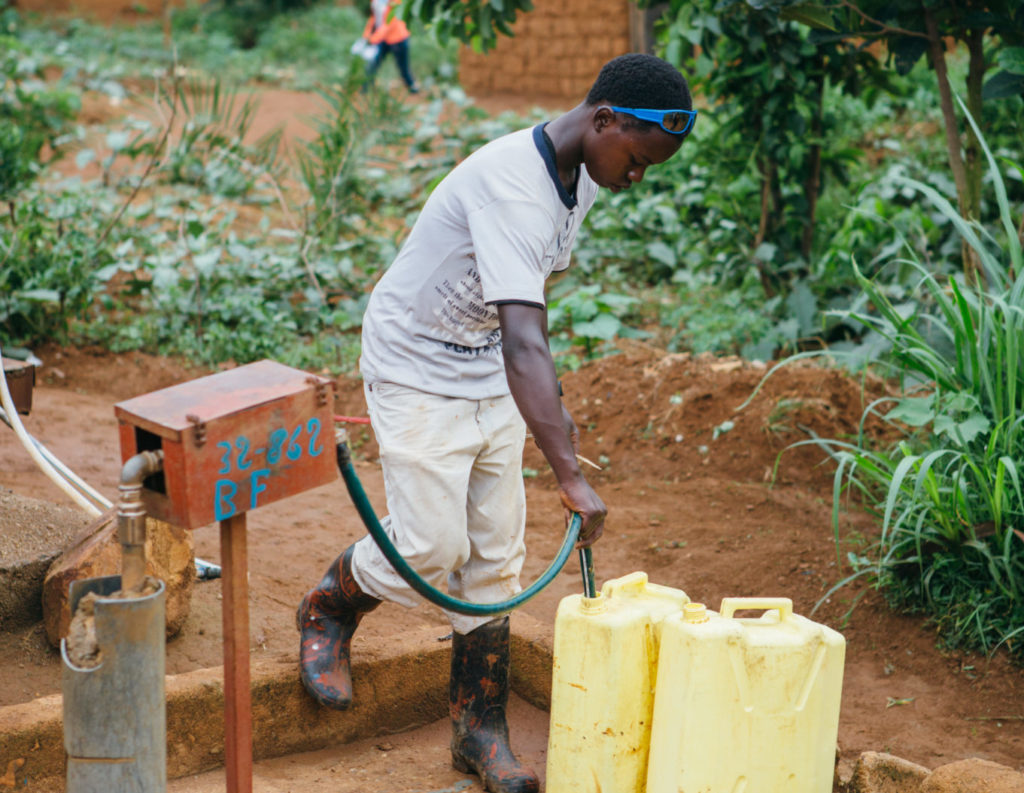 The water gave them back their time.
"Kids now go to school regularly, without absenteeism and delays, like it was when they had to go fetch water before or after school," Beatrice says.
Beatrice has taken the time she's saved and learned to weave baskets and mats, which she sells to generate more income for her family.
Having more time has changed everything.
Once the community had water access, they elected Beatrice to be president of the community hygiene club, and she says she couldn't betray their trust her neighbors were placing in her. With the knowledge she gained in the hygiene club, she built an improved latrine at her home and introduced healthy hygiene habits to her family. Being president of the hygiene club has given her a platform to promote similar behavior change across the entire village.
Because women are often those most affected by a lack of safe water, having women's voices like Beatrice's promoting water, sanitation, and hygiene is critical.
"It is very important for women to be a part of water, sanitation, and hygiene activities," Beatrice says. "We are the ones responsible for our households, but also for influencing our children and husbands on changing behavior."
"Before, we were the ones traveling long distances to fetch water, because we needed to use it at the household – cleaning, washing clothes, cooking, and doing so many other chores that demand water," she says.
With the new water point in place and with Beatrice's work to promote change throughout her community, women are feeling the difference. Not only do they have more time, but their families are healthier and the future looks brighter.