John overcame poverty through poop businesses.
That's right, you read that correctly.
"My parents were very poor," John says. "I tried to go to school but my uniforms were so torn that I looked almost naked. Friends would laugh at me, and I decided to stop school."
Without finishing his formal education, John had to jump from job to job. "I tried different jobs, some of which if I mentioned here you would think I am lying," he says. He did recall a few though: herding goats, cultivating tobacco, hauling firewood. But nothing consistent or that paid well enough to sustain a decent standard of living for himself and his family.
Then he discovered construction. A mason in his village took John in as his assistant during a project in the city of Blantyre, Malawi. But after that initial project, finding construction jobs wasn't easy, until the chief in his community announced they were looking for masons to be trained in sanitation businesses.
John was desperate, so he signed up.
At the training, conducted by Water For People and a local partner, Hygiene Village Project, John learned to build latrines and market his business. His first marketing strategy was to write his phone number on every latrine he built so customers could easily contact him if they needed more help in the future – a move that soon paid off.
John opened his sanitation shop in Blantyre, and before long he was able to expand to the capital city of Lilongwe. He went on building latrines, slowly growing his business and hiring employees. Then he discovered pit-emptying services.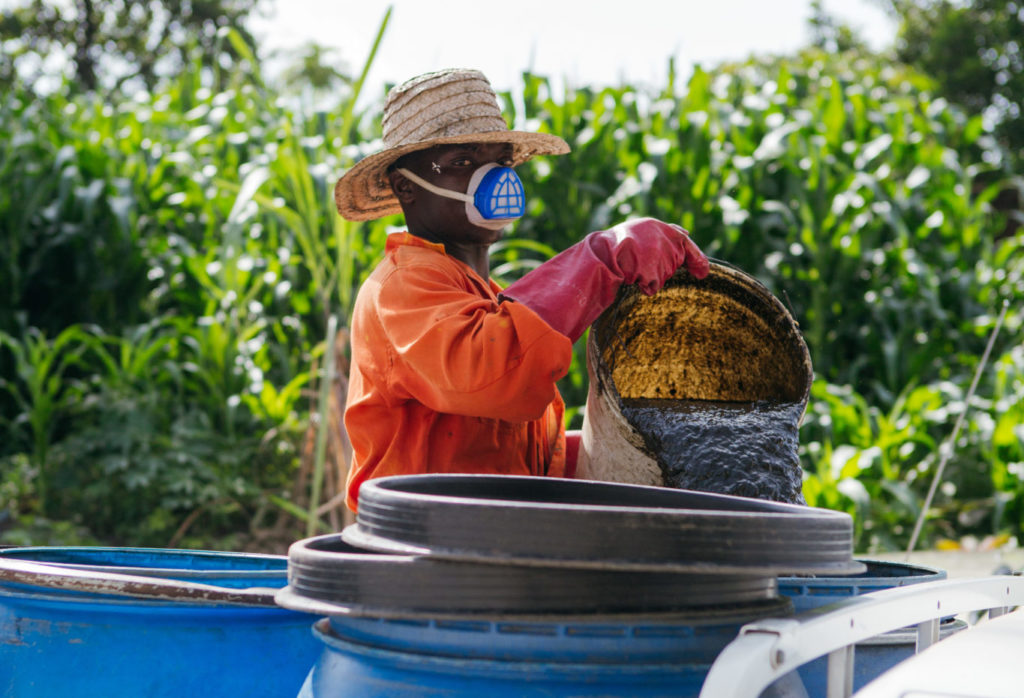 Pit latrines like the ones John builds fill up with waste, and because space is limited in urban Blantyre, households have to empty their latrines rather than build new ones. John saw this demand for pit emptying, and adding this service to his sanitation portfolio turned out to be a lucrative decision.
"At first people used to laugh at me for emptying fecal sludge, but today the same people who were laughing at me are now working for me!" John says.
Between his two shops, John manages seven employees. At the shops, his attendants record all the details of prospective customers – many who call because he wrote his phone number on their latrine when he built it. "Every morning I check in and make follow-up calls," John says. "Sometimes, customers who have my number call me directly. My cell phone is on 24 hours [a day], I do not switch it off."
The day before emptying a latrine, John goes through a step-by-step checklist. He visits customers' homes to assess the status of the latrine and the environment around it. He plans where to park the transport vehicle and determine if his equipment will fit in the latrine without removing its roof. He makes sure the owner has water readily available so they can clean the surroundings after emptying the latrine. Finally, he goes to the Blantyre City Council to pay the dumping fee and pays the vehicle hire fees to the local Pit Emptiers Association.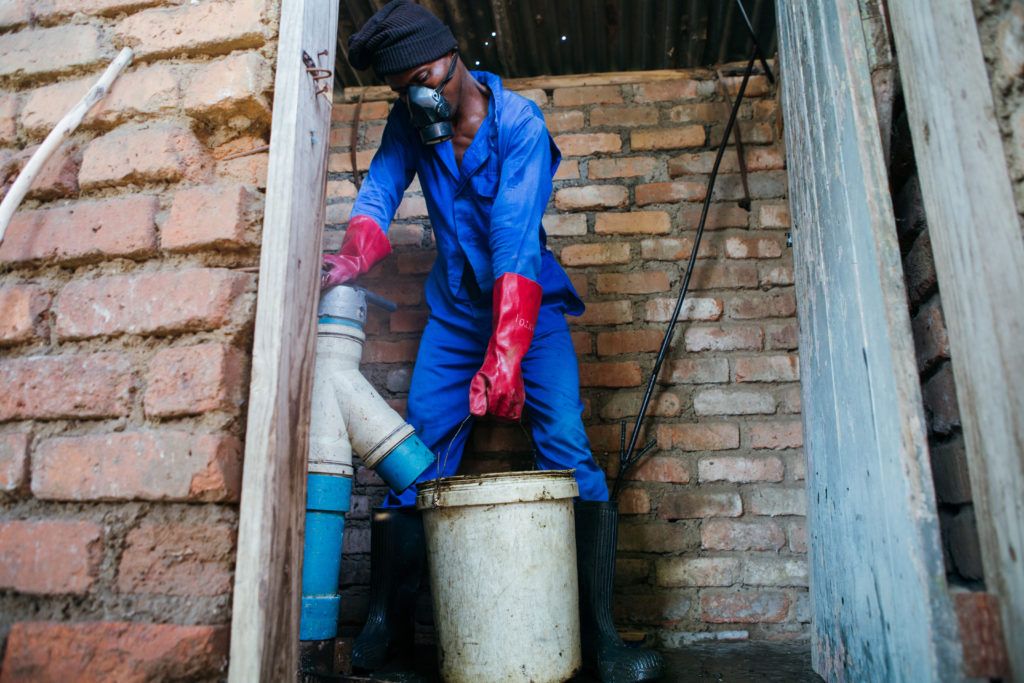 The next day, John and his employees are ready to empty the latrine, removing the wastewater and sludge 20-liter buckets at a time, bringing those to the 200-liter barrels in the transport vehicle, which takes them to the local sewage treatment plant for disposal.
"In 2012, I used to empty two latrines a month, but now I am emptying more than 15 latrines per month," John says. Between the latrine building and pit-emptying, John's profits have grown to over $1,100 per month, allowing him to provide for his wife and three children and continue investing in his business.
This business that most people turn up their noses at – literally and figuratively – has changed John's life completely. He went from being the laughingstock of his school to being a respected and innovative businessman. His sanitation business changed everything for him, and he's not stopping yet.
"I have huge plans," John says. "I want to open sanitation shops in all the districts of Malawi so that my services are easily accessible."
It's a big goal, but we don't doubt John will make it happen. Onward to prosperity…through poop.