As of February 9, the death toll from cholera in Malawi was more than 1,300. Like many water-borne diseases, cholera is entirely preventable, making the rising death toll in Malawi even more heartbreaking.
First announced in March 2022, the outbreak has since affected all 28 Districts of Malawi and represents the largest outbreak reported in the country in the past ten years. "The outbreak is taking place in the context of tropical storm Ana (January 2022) and Cyclone Gombe (March 2022)," explains Cate Nimanya, Water For People Regional Director, Africa. "The storms caused floods leading to the displacement of a population with low pre-existing immunity that now lacks access to safe water, sanitation, and hygiene." Flooding in areas with low levels of safely managed sanitation services causes contamination to spread, and as of 2020, only 24% of Malawi's population had access to safely managed sanitation.¹
Climate change is obviously increasing the likelihood of storms like Ana and Gombe. And, as the New York Times reported earlier this year, outbreaks can happen when communities that lack safe water and sanitation exist—even within countries that have mostly eradicated diseases like cholera.
So, what can communities, governments, and NGOs do to prevent unnecessary deaths from epidemics like cholera in the future?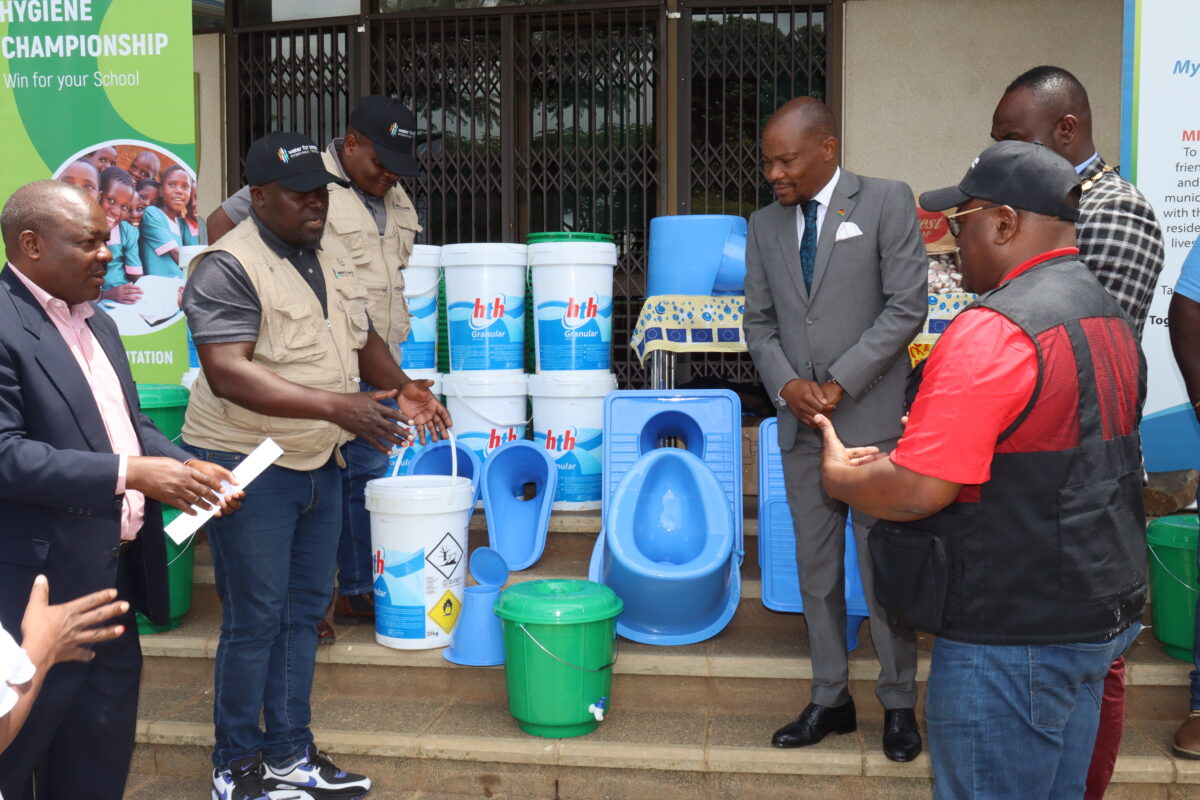 Partnerships
Water For People Malawi has partnered with other water, sanitation, and hygiene organizations to support the Malawi government. Some of the activities implemented include road shows and radio segments in cholera hotspots to raise awareness on prevention and best hygiene practices, supporting the Blantyre City Council with logistical resources to conduct door-to-door campaigns in urban areas, providing critical tools for prevention (soap, chlorine, handwashing buckets and stations, and mats), and training and capacity building at local hospitals.
Flexible Funding
One of the reasons city councils in countries like Malawi are struggling with equipment for cholera prevention is that their aid funding often is tied to specific uses. Restricted funding rules don't often allow for funding the pressing needs now coming from the districts facing cholera outbreaks. We've talked about the importance of flexible funding before and how it empowers the innovation and problem-solving needed for urgent global issues like the water crisis. It's especially important in a health crisis like this one.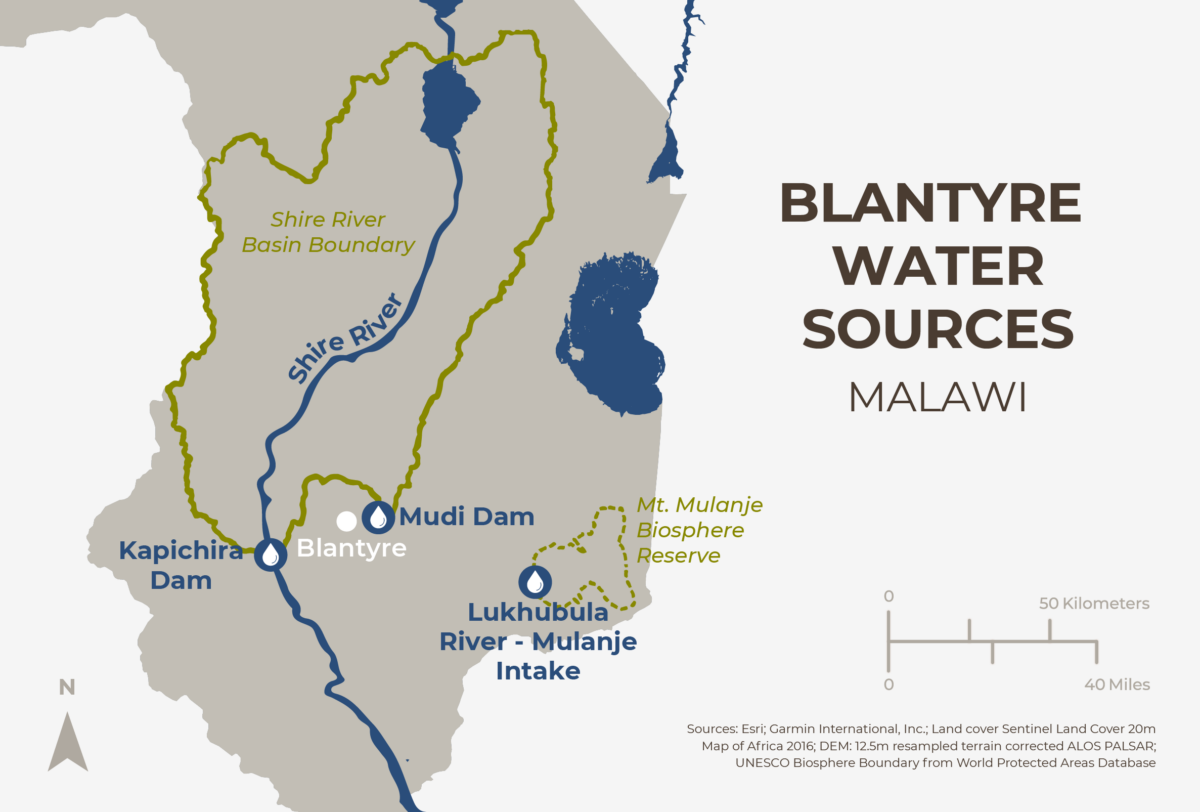 Protect Water Sources
Inadequate water supply in parts of Blantyre has forced some areas to use unprotected water sources, contributing to the increase in cholera cases. The city gets its water from three source water areas: the Shire River catchment, the Mudi-Ndirange catchment, and the Likhubula River from the Mulanje Mountain.
Despite this varied supply, the city's water supply is deeply constrained, the result of catchment degradation, leaking pipes, and aging infrastructure, which result in high-water losses. On top of the constrained supply, the degraded catchments mean the area is subject to devastating floods. This results in the loss of built infrastructure, lives, and livelihoods and creates unfortunate opportunities for cholera to develop.
Last August, The Nature Conservancy and Water For People, in partnership with the Malawi government, created the Blantyre-Mulanje Water Fund to holistically address the region's long-term water security by integrating nature-based solutions and improving the resilience of community water and sanitation services.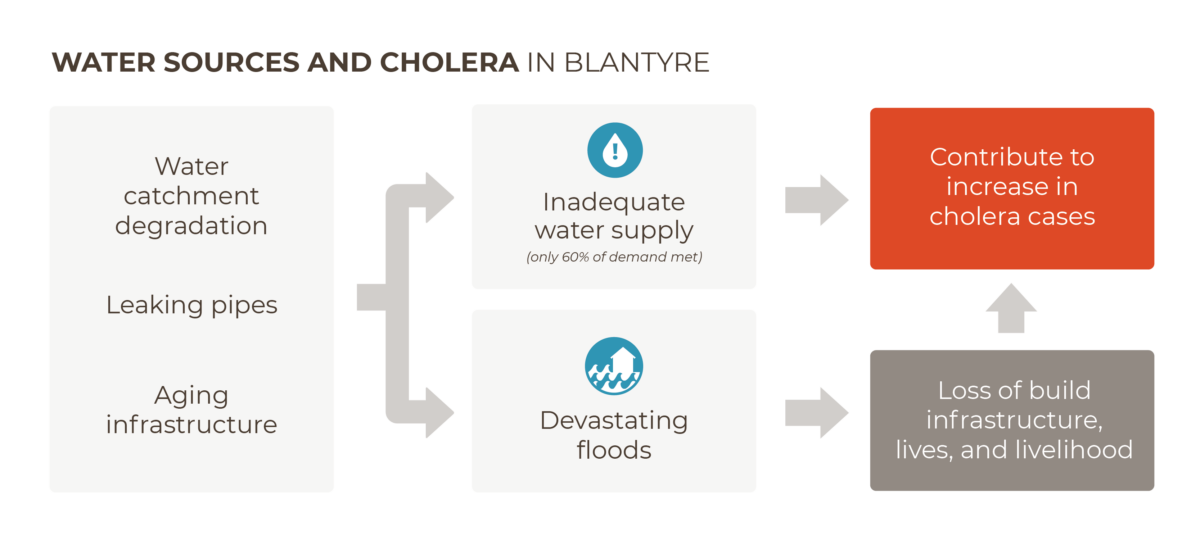 Unfortunately, Cholera was already making its way through the city as the fund was in the early phases of formation. There is now new urgency to strengthen catchments and services to cope with climate change and prevent the next public health outbreak. Funds like this one will help.
Learn more about the Blantyre-Mulanje Water Fund here.


¹ WHO/UNICEF Joint Monitoring Programme for Water Supply, Sanitation and Hygiene, "Progress on Household Drinking Water, Sanitation and Hygiene 2000-2020".
Share this post with your networks